Leech, Steve and Teague, Steve and Ford, Ben Crane Platform Rushey Weir Bampton Oxfordshire & The Excavation of Mesolithic Flint and an Early Medieval Enclosure at Rushey Weir Burcot. [Client Report] (Unpublished)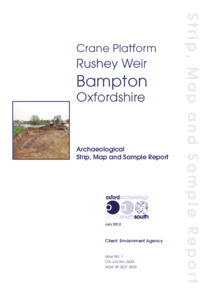 Preview
PDF




BURUWE12_pdfA.pdf


Download (5MB) | Preview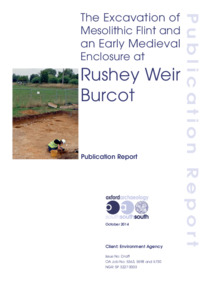 Preview
PDF




BURUW08_BURUWE12_BURF13_Client_report.pdf


Download (1MB) | Preview
Abstract
Between the 8th and 14th of May 2012, Oxford Archaeology (OA) carried out an
archaeological Strip, Map and Sample (SMS) at Rushey Weir, Oxfordshire (NGR SP
3227 0003). The work was commissioned by Atkins Limited on behalf of the
Environment Agency in advance of the upgrading of the existing paddle and rymer
weir facility. The SMS revealed that the larger NE part of the area had been
previously disturbed by weir construction. The SW extent of the site revealed two
curvilinear ditches. These ditches were both of post-medieval date and one was part
of a 'D' shaped field boundary, still partially in use today and the other a probable
enclosure adjacent to the river.
&
Small-scale excavations in advance of the construction of a fish pass were focused on
an important area of cropmarks just south of Rushey Weir and Lock, thought to
represent a Neolithic causewayed enclosure and mortuary enclosure. In the event, the
excavations found nothing of this date, but recovered a rare assemblage of probably
late Mesolithic flint, and evidence for an enclosure of the late 10th or early 11th
century that surrounded a post-built building. It is likely that the enclosure and
building were associated with control of the Thames crossing.
Actions (login required)