Rees, Gareth (2014) A 19th Century Baptist Cemetery at St Matthew's Primary School, Norfolk Street, Cambridge. [Client Report] (Submitted)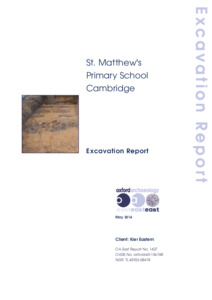 Preview
PDF




Report 1437_final_LR.pdf


Available under License Creative Commons Attribution Share Alike.
Download (8MB) | Preview
Abstract
Between the 6th and 13th of November 2012 Oxford Archaeology East carried out archaeological excavations at St Matthew's Primary School, Norfolk Street, Cambridge (TL 45926 58418). The excavation was commissioned after the discovery of human remains during the construction of new school buildings.
A trench measuring 12m by 6m was opened in the north-west part of the development area. Seven complete burials were uncovered in the excavation area with a further four surviving only in part. The remains of 13 individuals were recovered from the site only one of whom was an adult; nine of these were fully articulated. Two of the graves contained two burials which had probably occurred simultaneously.
The cemetery was associated with a Baptist chapel, seen on historic map of the area and since demolished. The Providence Calvanistic Baptist Chapel was in use for four years between 1833 to 1837 before it was sold to pay off debts. This narrow period of use enables the results of this excavation to be of great value to the study of the non-conformists of Cambridge at this time. The pathology of the skeletal remains is indicative of these children having a poor diet and perhaps having died during a bout of disease or epidemic. The graves contained shroud pins as well of coffin fittings giving an insight into the burial rights here.
The adult remains are associated with a gravestone inscribed with the name 'Harriet Halls' and that of her husband 'James Henry Halls'.
The earliest deposits on the site are those of backfilling in quarry pits. During the early 19th century the land where the development site is located was leased for gravel quarrying, which may have been associated with construction related to the rapid expansion of Cambridge at this time.
Actions (login required)