Rees, Gareth (2014) Iron Age occupation and Medieval rural buildings at Isleham Recreation Ground, Cambridgeshire. [Client Report] (Submitted)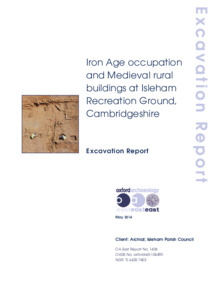 Preview
PDF




Report 1434_LR.pdf


Available under License Creative Commons Attribution Share Alike.
Download (5MB) | Preview
Abstract
Between the 19th November and 6th December 2012 Oxford Archaeology East conducted an archaeological excavation in advance of the construction of a new village hall and community centre on the recreation ground in Isleham. A previous evaluation had uncovered evidence for early medieval activity in this area and the subsequent excavation aimed to examine and characterise the extent of this activity and its relationship to the development of medieval Isleham.
The earliest activity that was uncovered dated to the Early Iron Age. This consisted of a partially surviving enclosure ditch within which were located several storage pits and postholes. The postholes may have been part of domestic structures and pottery recovered from one of the pits indicated that there had been a settlement located here at this time.
Two phases of medieval activity were uncovered on either side of a large natural hollow or pond. The pond was bounded by ditches, fences and hedges throughout the medieval period to keep animals away from crops and storage buildings located to the east and south of the excavation area. This activity was closely related to the alien Benedictine priory which was established shortly after the Norman conquest.
A structure located in the south-eastern part of the excavation area was of sill-beam and post construction and may have been designed to hold a raised floor for storage of produce. This structure was rebuilt in the second medieval phase. An area directly to the east of this structure may have been used for crop cultivation.
The southern corner of a field was located to the north-east of the trench and contained linear features thought to represent medieval ploughing and root action of crops in this area. These field boundaries were later backfilled with domestic refuse, including large amounts of charred grain, before a small barn was constructed. The barn may signify that the field was being used to hold animals rather than for agriculture. Activity on the site may have declined after the monks of the priory moved away from Isleham in the 13th century.
During the post-medieval period several pits were dug for the quarrying and working of clunch for construction. This may indicate that Isleham was beginning to expand.
Actions (login required)