Thatcher, Chris (2014) Beechwood Park School, Markyate, Hertfordshire. [Client Report] (Submitted)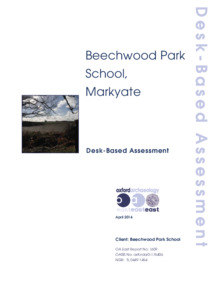 Preview
PDF




DBA1609_LR_2.pdf


Available under License Creative Commons Attribution Share Alike.
Download (4MB) | Preview
Abstract
In March and April 2014 Oxford Archaeology East undertook a desk based assessment and Heritage Impact Assessment to examine the available historical and archaeological resources relating to Beechwood Park School, Markyate, Hertfordshire (centred at TL 0449 1454). The work was commissioned by Beechwood Park School as part of a pre-planning application for proposed new buildings associated with the school. The aim of this assessment is to determine the archaeological potential of the site and the possible impact any future work could have on both any archaeological remains and the Historic Landscape and Heritage Assets.
Beechwood Park has a rich and varied history. It is built on the site of a former Benedictine Nunnery, St Giles In The Wood, which dates from the Late Saxon period. After the dissolution of the nunnery in 1537 it eventually passed to Sir Richard Page who built an H-shaped Tudor manor house at Beechwood. This plan still exists, later becoming incorporated into the Queen Anne additions to the house. Subsequently it was acquired by Thomas Saunders, in 1628, whose family undertook building works including the alterations to the façade as seen on a plan of 1670. When the house passed, by marriage, to the Sebright family, a major building programme was instigated to double the size of the house. This included the creation of the striking north-east façade, in 1702 and also landscaping of the grounds in the 1750s by Capability Brown
In 1961 ownership of the buildings and grounds was transferred to the Stewart family. It was Group Captain Peter Stewart who oversaw the restoration of Beechwood Park. He is regarded by many to be the founder of Beechwood Park School, which opened in 1964.
This piece of work has demonstrated that there is a low probability of pre-Saxon remains surviving in either of the Proposed Development Sites. There is a moderate possibility of encountering Late Saxon and medieval remains. The proximity of the site to the putative Late Saxon nunnery of St Giles In The Wood make the Potential Development Sites of some interest to considerations of our understanding of the development of the site during this period.
The numerous cartographic sources available for the site demonstrate that during the post-medieval and modern periods Beechwood House and to a lesser extent the park and gardens, have been subject to numerous phases of construction and re-modelling. Overall it is felt that the preservation of any below ground remains will be good, for all periods.
It is suggested that the impact of any development on the Heritage Assets and the Historic Landscape will be far greater in Proposed Development Site 2 than in Proposed Development Site 1.
Actions (login required)