Phillips, Tom (2013) Bronze Age land use, Iron Age settlement and Roman quarrying at Milton Landfill, Milton, Cambridgeshire. [Client Report] (Submitted)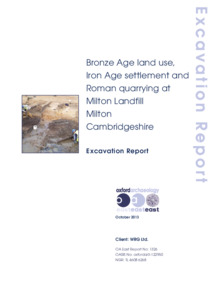 Preview
PDF




Report 1326 LR.pdf


Available under License Creative Commons Attribution Share Alike.
Download (11MB) | Preview
Abstract
Between August 2007 and August 2009 Oxford Archaeology East (formerly CAM ARC, Cambridgeshire County Council's Archaeological Field Unit) undertook three separate stages of open area excavation at Milton Landfill, north of Cambridge, on behalf of WRG Ltd. The three separate excavations formed one contiguous area, approximately 1.8ha in size. Each excavation took place as a new block of land or 'cell' was required for landfill.
The excavations revealed evidence for early land use in the form of several early prehistoric flints found in later features. The earliest evidence of settlement on the site was limited to a single waterhole of Early Bronze Age date, and a pit which the waterhole truncated. Activity increased in the later part of the Bronze Age with evidence of land division in the form of an 'L' shaped arrangement of ditches, a post-built roundhouse and two enigmatic post alignments.
More extensive settlement occurred in the Early Iron Age, comprising a scattered and seemingly unenclosed agricultural community. The main settlement features were a series of large waterholes, accompanied by the remains of post-built structures such as further roundhouses and granaries and small groups of pits associated with the settlement features. The ceramic assemblage suggests this occupation activity spanned the later part of the Early Iron Age and possibly the beginning of the Middle Iron Age, indicating the exploitation of an area of land by one or more extended family groups over several generations. The only Late Iron Age activity was a series of narrow linear ditches, although the dating of these remains tentative.
In the Early Roman period occupation had ceased. Instead, widespread quarrying took place, but only within a specific area where the gravel was of a higher quality. The quarry pits were dense but relatively shallow, probably due to the water table at the time of quarrying. The most obvious use for the gravel would be surfacing of the Roman road, Akeman Street, which bounds the western side of the excavation area.
Following the Roman period there was no land use on the site until the medieval period; the pre-enclosure system of ridge and furrow was evident across the excavation area.
Actions (login required)