Unknown, Unknown (2007) DEFENCE ESTATES TCS OAKHANGER, HAMPSHIRE: POST-EXCAVATION ASSESSMENT. Project Report. Oxford Archaeology. (Submitted)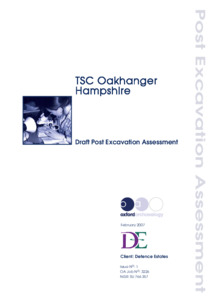 Preview
PDF




A2006.45.pdf


Download (1MB) | Preview
Abstract
In August 2006 Oxford Archaeology excavated a 0.04 hectare area in advance of the erection of an antennae and the installation of supporting infrastructure within TCS Oakhanger, Hampshire.
The work revealed evidence for Mesolithic use of the immediate vicinity in the form of redeposited flint tools. Later prehistoric use of the site was suggested by worked flint and pottery ranging in date from late Bronze Age to Iron Age. These sherds were recovered from three parallel ditches/gullies aligned N-S across the site. A small amount of medieval pottery was also recovered from one of these
features, where a possible re-cut was noted although this was not clear. None of these features can be securely dated as the pottery was of a small quantity and abraded and may well have been residual.
Thirteen postholes were revealed, some of which formed a linear alignment, perhaps once a fence-line. The fence line appears to have post-dated the ditches. Only one posthole contained pottery, which was of Iron Age date. This was
accompanied by a small amount of metalworking debris.
Several plough scars were identified but remain undated.
Actions (login required)