Gill, Jonathan and Matthews, Bryan Hornchurch Country Park, London Borough of Havering, London. [Client Report] (Unpublished)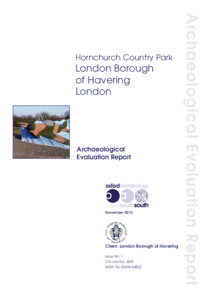 Preview
PDF (Hornchurch Country Park London Borough of Havering London)




HUP10_Evaluation_Report.pdf


Download (3MB) | Preview
Abstract
Hornchurch Country Park was created in the later 20th-century, to re-landscape a large area which had seen extensive gravel extraction and landfill operations. In the
first half of the century however, this was among the country's most important airfields and it played a prominent role in both the First World War, as Suttons Farm Aerodrome, and then in the Second World War as RAF Hornchurch. It is of particular historical significance for the key role it played in the Battle of Britain when Britain stood alone in confronting Hitler and RAF Hornchurch was in the front-line of the nation's defence.In March 2010 Oxford Archaeology carried out an evaluation within the footprint of a
proposed visitor centre at Hornchurch County Park. This was intended to assist in the wider assessment of the archaeological potential of the area of the proposed visitors centre, based on consideration of historic plans and aerial photographs which had been collected in a previous study of the area undertaken by Oxford Archaeology in 2008.The evaluation was principally targeted on a series of barrack blocks shown on a First World War Sutton's Farm airfield plan, a defensive slit trench which is shown on
a Second World War aerial photograph and a faint circular feature which also appears to be shown on the same aerial photograph. No clear evidence of the barrack blocks were identified in the evaluation but some probable trace of the slit trench, in the form of corrugated iron sheeting, was found. The preservation of the trench was very poor however and the remains were found to have been very truncated and
dislocated.The evaluation also identified the concrete remains of a possible air-raid shelter.Extensive re-deposited modern material were encountered throughout the area and the potential for well-preserved features to survive below ground level in this area is considered to be low.
Actions (login required)