Cook, Sean Provost's Garden, Queen's College, Oxford ARCHAEOLOGICAL EVALUATION REPORT. [Client Report] (Unpublished)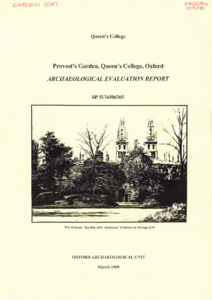 Preview
PDF




OXQCP 98_PdfA.pdf


Download (5MB) | Preview
Abstract
The oxford Archaeological unit carried out a field evaluation at Queen's college on behalf of
The Queen's college, Oxford. Trial trenches were placed within the provost's garden in advance of a proposed new library building. The evaluation revealed a roughly constructed gravel surface and associated features dated to the Saxon-Norman period. one of these features,
a large pit, contained fragments of slag indicative of metal working which possibly took place
somewhere within the evaluation area. The retaining features consisted. mostly of I3th and
14th century pits and included some evidence of later post-medieval pitting. The purpose of the
pits is unclear although it is suggested that gravel extraction connected with local building is
very likely. One large pit appears to have been connected with the construction of an Anderson
shelter in 1939.
Actions (login required)