Bashford, Robin (2009) Former Ambulance Station, Wantage, Oxfordshire. Project Report. Oxford Archaeological Unit Ltd. (Unpublished)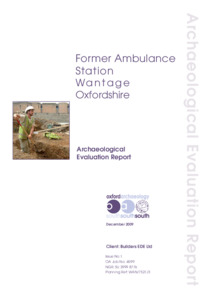 Preview
PDF




WABUL09.pdf


Download (772kB) | Preview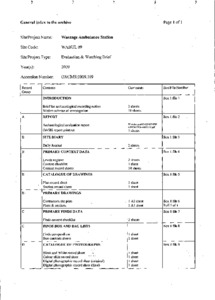 Preview
PDF




WABUL 09 Wantage Ambulance Station_A1b.pdf


Download (3MB) | Preview
Abstract
In December 2009, Oxford Archaeology (OA) carried out a field evaluation at the former Ambulance Station, off Ormond Street, Wantage, Oxfordshire. The work was undertaken on behalf of Builders EDE Ltd, in advance of new residential development.
The site was previously occupied by Wantage Ambulance Station, which has recently been demolished. The focus of the evaluation was within the footprint of the proposed new build, and comprised two trenches. Trenches 1 and 2 were respectively 20 m and 15 m in length.
The evaluation revealed one east-west aligned ditch and two intercutting ditches on a roughly north-south alignment. The dimensions and profile of the earlier of the north-south aligned ditches suggested a possible correlation with the east-west aligned ditch, as did the similarity between the composition of the fill of the east-west aligned ditch and the upper fill of the earlier north-south aligned feature. A single small sherd of pottery from the upper fill of the latter suggested a possible late Saxon date for this feature – although the suggested correlation between the two ditches remains tentative. The second of the north-south aligned ditches may have represented a re-cut of the earlier feature, although no dating evidence was recovered. Three modern trenches were also revealed, which almost certainly represent the grubbed out foundation trenches of the recently demolished ambulance station.
Within the footprint of the demolished building, the natural geology was directly overlain by a deposit of similar composition to the fills of the foundation trenches, and likely to have originated from the recent phase of demolition. Outside the footprint of the former building, this demolition deposit overlay a buried soil horizon which in turn overlay the natural geology. This deposit was cut by a linear configuration of modern post-holes, and is likely to represent the ground surface which pre-dates the construction of the ambulance station, and has been truncated within the footprint during the construction of same.
Actions (login required)