Cockin, Guy Land adjacent to Salmestone Grange Nash Road Margate Kent. [Client Report] (Unpublished)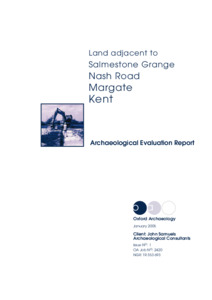 Preview
PDF




MASG04_pdfA.pdf


Download (1MB) | Preview
Abstract
In August 2004, Oxford Archaeology (OA) carried out a field evaluation
on land adjacent to Salmestone Grange, Margate Kent (TR 353 693) on
behalf of John Samuels Archaeological Consultants, with agreement from
Simon Mason of Kent County Council.
Much of the evaluation work was targeted at the results of an
earlier geophysical survey, which had identified a number of potential
archaeological features. These included curvilinear anomalies, a possible
large pit or pond, and extensive cropmarks showing the remains of
enclosures, tracks and field systems probably associated with Salmestone
Grange. A limited quantity of domestic refuse was recovered from the
trenches, with the pottery and ceramic building material dating to the
medieval and post-medieval periods.
The evaluation demonstrated that a number of the features
recognised in the geophysical survey were present within the trenches, but
also that a number were periglacial in origin. One area in particular (in
Trench 54 to the south west of Zone B), revealed quite extensive remains
of possible prehistoric and medieval dates. Several large medieval
landscape type features were also present, including two probable chalk
quarries, a trackway ditch and a number of probable field boundaries.
A dispersed scatter of un-datable features were also present on the
site. In general it seems that during the medieval and later periods this
part of the site mainly consisted of fields outlying Salmestone Grange,
with some quarrying of chalk to the south, but otherwise displaying limited
human activity.
Actions (login required)