Fletcher, Taleyna (2011) Eastwood House, Neale Wade Community College, March, Cambridgeshire. [Client Report] (Submitted)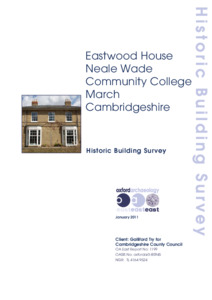 Preview
PDF




Report1199_LR.pdf


Available under License Creative Commons Attribution Share Alike.
Download (3MB) | Preview
Abstract
On 28th July 2010, Oxford Archaeology East conducted a historical building survey at
Eastwood House, a Late Regency/Early Victorian villa which until recently was part of the
Neale Wade Community College, March. The site is owned by Cambridgeshire County
Council and is the subject of planning consent for demolition as part of the redevelopment
of the entire college site. This piece of work is part of the ongoing archaeological
investigations being undertaken by Oxford Archaeology East since 2009 and expected to
continue into 2011.
This work was not carried out in response to a brief, however was undertaken to form part
of the record of the site. It involved a survey of Eastwood House, the only historic building
on the site and was carried out to meet the requirements of English Heritages building
survey at Level 1/2.
Two main phases of development were identified during the survey: construction of the
original Eastwood House in the mid-19th century and internal and external alterations
during the 1960s when the building was adapted to accommodate the March Grammar
School.
Documentary and cartographic research was carried out prior to the survey which has
assisted in dating certain elements, additions and changes to the building and its
immediate landscape. Although early records relating to Eastwood House or its
construction were difficult to locate, the earliest mention came from Kelly's Post Office
Directory of Cambridgeshire where under "gentry" a John Pope Esq. was listed as its
occupant. This suggests the building was constructed prior to the 1850s.
Since the building has been in use as a school, most of the original features such as
fireplaces had been removed. All of the original windows had been replaced and internal
partition walls inserted to create smaller rooms. Despite these alterations, a number of
interesting and original features remained in the building including moulded door frames
and original doors on the first floor, an impressive tiled front entrance, original hinged
window boxes, moulded ceiling cornices and a decorative dog-leg staircase with half
landing, long, elegant turned balusters and carved brackets under each tread-end.
As part of the survey, the cellar was also inspected and found to contain original wine
store with vaulted brick ceiling and lime washed walls. Parts of the cellar had also been
blocked off and brick support pillars/plinths inserted using re-used brick.
Eastwood House has since been demolished as part of the ongoing redevelopment.
Actions (login required)