Pickard, Chris Land to the South of Bristol Road Stonehouse Gloucestershire. [Client Report] (Unpublished)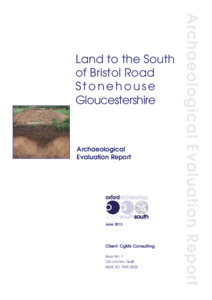 Preview
PDF




STSB13_report.pdfa.pdf


Download (8MB) | Preview
Abstract
Between the 7th of May and 13th May 2013, Oxford Archaeology (OA) carried out a
field evaluation on Land South of Bristol Road, Stonehouse, Gloucestershire. The
evaluation was commissioned by CgMs Consulting on behalf of Robert Hitchins Ltd
and their successors in title to the land.
The evaluation consisted of sixteen trenches targeted in part on a series of geophysical anomalies which were thought to be of archaeological origin. The form
of the geophysical anomalies suggested the presence of a series of enclosures with a possible track-way leading south towards the River Frome, and this was confirmed
by the results of the evaluation.
The earliest archaeological evidence consisted of a ditch containing small fragments of later prehistoric pottery in the western half of the site. No other finds of this date
were present.
Archaeological features of Roman date were recorded in five trenches, largely consisting of ditches forming enclosures and a possible track-way. The majority of the features dated to the later 1st-2nd century AD date although at least some are of later Roman date. The features are concentrated in the eastern central part of the
site and generally corresponded to the recorded geophysical anomalies.
The quantity of pottery and the presence of a range of other finds (including human bone, animal bone, a small quantity of slag and a possible hone stone) suggest that the remains represent settlement activity. The distribution of features and form of the geophysical anomalies suggests that the focus of settlement activity lies towards
(and almost certainly beyond) the northern edge of the site.
The western half of the site, along with the eastern margin, contained a few, largely undated, archaeological features.
Part of the site appears to have been subject to quarrying, and subsequent dumping of domestic waste in the late 19th/early 20th centuries. Evidence for this was
recorded towards the northern edge of the site and its extent is indicated by an area of strong magnetic responses recorded in this part of the site in the geophysical
survey.
Actions (login required)