Bush, Louise (2008) Evaluation at Highfield School, Ely, Cambridgeshire. [Client Report] (Submitted)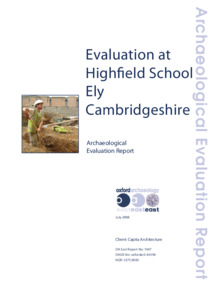 Preview
PDF




Report 1047_LR.pdf


Available under License Creative Commons Attribution Share Alike.
Download (637kB) | Preview
Abstract
On 23rd July 2008, OA East (formerly Cambridgeshire County Councils CAM ARC) conducted an evaluation on a plot of land within Highfield School, Ely, in advance of the proposed development to expand the school.
One 11m trench was excavated. The majority of the features were of Medieval date or later, this included ridge and furrow which could also be seen on the adjacent playing fields to the north of the development area.
The earliest feature in the trench was a small ditch, possibly forming part of a Bronze Age field system. Activity in this part of Ely was dedicated to agriculture, evidence has been found for continuous farming of this area from prehistory right through to the medieval period.
Actions (login required)