Atkins, Robert (2009) Late Iron Age and Roman Settlement on land off Stirling Way, Nr Witchford, Ely. [Client Report] (Unpublished)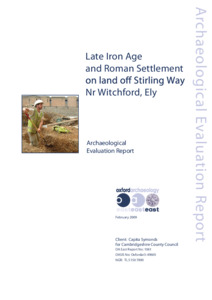 Preview
PDF




Report1061_LR_final.pdf


Available under License Creative Commons Attribution Share Alike.
Download (1MB) | Preview
Abstract
Between the 26th August and 9th September 2008 OA East conducted an archaeological evaluation on land off Stirling Way, near Witchford, Ely in advance of a proposed recycling centre.
Thirty-seven test pits and 10 trenches were excavated. The trenches were targeted over features identified by geophysical survey and away from services (Masters 2008). All the Roman features, comprising post holes, ditches and pits, were found within three trenches on the extreme southern side of the development. The settlement was on a plateau at the top of a small knoll at 15.90m AOD within an area c.60m by 50m. There were three phases of activity recovered dating from the 1st century AD to the early/middle 2nd century.
Although only a small part of the Late Iron Age and Roman settlement was within the development area, these remains should be considered of regional importance. This is due in part to the unusual nature of the remains. Of interest was a very large boundary ditch, 2.8m wide and 1.15m deep, which followed the contours of the top of the knoll. Other ditches of this size from nearby Iron Age settlements have been classed by Chris Evans et al of Cambridge University as possibly defendable. All the Roman features survived in good condition with very little truncation. A large amount of the LPRIA and Early Roman artefacts recovered (pottery especially) were primary assemblages and came from only three features. These assemblages are unusual and have been classified by Alice Lyons (pers. comm.), as being potentially regionally important. This collection of artefacts indicates that domestic occupation was partly within and/or adjacent to the proposed development area.
No Roman remains were found on the north facing land which sloped down to 11.81m AOD. Post-medieval furrows, quarry pits and 18th/19th century field boundary ditches were found in this area.
Actions (login required)