Rees, Gareth (2010) Prehistoric Fen Edge Activity at the Sutton Gault Irrigation Reservoir Extension. [Client Report] (Unpublished)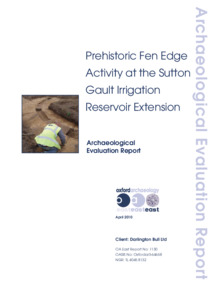 Preview
PDF




Report1130LR.pdf


Available under License Creative Commons Attribution Share Alike.
Download (1MB) | Preview
Abstract
Between the 7th and 21st of September 2009 OA East conducted an archaeological evaluation on land off Blaby's Drove, North Fen, Sutton Gault (TL 4045 8132) in advance of the proposed extension to an irrigation reservoir.
The site was located on a gravel island raised about 1.50m above surrounding fen. Twenty four trenches were opened. These were located in relation to known flint scatters and possible monuments identified from aerial photographic survey (Palmer and Cox 1996).
Archaeological remains were uncovered across the site with a concentration on a raised sand bar that ran along the south of the proposed development area. Features included Neolithic pits with associated ditches, four partial ring ditches and numerous pits of possible Early Bronze Age date and a pit dating to the Late Mesolithic.
A buried soil was identified below the 'lower' peat to the north west of the sand bar representing an old Neolithic and Bronze Age land surface. This soil contained evidence of Late Neolithic and Early Bronze Age activity.
To the north east of the sand bar the ground level dipped slightly and the presence of alluvium suggested that this was the location of a palaeochannel or an ancient marsh. These deposits contained flint working fragments suggesting seasonal occupation in a wet environment.
Burnt hazelnut shells indicate wild foods were utilised and that this site may have been seasonally occupied in the Late Neolithic. The cultivation of crops is indicated by the presence of cereal grains, ditches are evidence for livestock management and field systems. The Early Bronze Age saw the emergence of a more permanent settlement possibly linked to a funerary and ritual landscape.
The evidence found here shows that this site has potential to make a significant contribution to the study of the Mesolithic, Neolithic and Bronze Age in the Fens.
Actions (login required)