Rees, Gareth (2009) Land at the Weatheralls, Soham, Cambridgeshire. [Client Report] (Unpublished)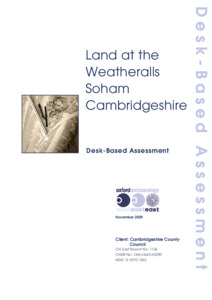 Preview
PDF




Report1136LR.pdf


Available under License Creative Commons Attribution Share Alike.
Download (3MB) | Preview
Abstract
In October 2009 Oxford Archaeology East undertook a desk-based assessment to examine the available historical and archaeological resources relating to a 25ha plot of land at the Weatheralls, Soham, Cambridgeshire (centred at TL 5970 7365). The work was commissioned by Cambridgeshire County Council before a planning application had been submitted. The aim of the assessment was to define the archaeological potential of the site in advance of potential redevelopment. The desk-based assessment will be used to determine whether an archaeological evaluation of the area is required.
The site lies to the east of the historic medieval centre of the town of Soham.
Interpretation identified that prehistoric activity could be present in any part of the proposed development site but is likely to be on only a small scale. There is the possibility of a higher density of prehistoric remains in the south western field where the ring ditch was formerly identified from aerial photographs and again to the northwest, close to a previous evaluation that identified a prehistoric ditch.
A lack of previous evidence (except for one coin) for Roman remains tends to reduce their likelihood. Saxon remains would probably be confined to the western, higher third of the site as peat growth recommenced during this period, but there is currently no evidence for this.
Evidence of medieval agriculture and quarrying may well be present. Any medieval settlement remains would probably be confined to the western, higher third of the site and with the village being further to the west, this area was no doubt peripheral.
Nonetheless the presence of outlier settlement close by in the post-medieval period tends to suggest that similar remains cannot be ruled out, with the genesis for this being perhaps in earlier centuries. A structure is shown on the tithe map in the eastern field and in addition there will be remains from a 20th century farm in the south westernmost field.
Actions (login required)