Atkins, Robert (2010) Land to the south-east of St Mary's Church, Brampton, Huntingdonshire. [Client Report] (Unpublished)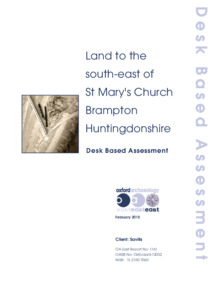 Preview
PDF




Report1161LR.pdf


Available under License Creative Commons Attribution Share Alike.
Download (1MB) | Preview
Abstract
In late January to early February 2010, Oxford Archaeology East undertook a desk-based assessment on land to the south-east of St. Mary's church, Brampton (TL 2150 7060). The subject site is located within the core of the historic village of Brampton, to the south-east of the church and with the Brampton Brook running through the south of the site.
The layout of the village suggests it was a planned settlement and dated from the Middle Saxon period or earlier, with the church, royal manor and manorial farm placed next to a large oval green. Brampton was of importance; it hosted at least five early medieval kings who hunted in the adjacent royal forest. The manor was also strategically significant with William I using it as the base (with both his court and army present) for the removal of Hereward the Wake from the Isle of Ely.
Documentary, cartographic, adjacent archaeological work and surviving earthwork remains within the north-eastern and central eastern areas of the site show that this subject site comprised the southern part of the manorial farm and was perhaps even within the former Saxon/medieval manor (the latter is not certain). It is unlikely that any of the associated Saxon and medieval buildings were within the site, they would have probably been to the west, near the church and the road frontage.
The earthwork remains comprised three fish ponds and associated drainage channels which were within a terraced landscape leading into the Brampton Brook. Archaeological work directly to the west in 2007, implied that further medieval ponds extended into a significant part of the subject site. This archaeological work, and a nearby archaeological monitoring visit in 1998 suggests there may also be some pits and ditches within the western parts of the site but they will probably be largely devoid of artefacts. These features were presumably back plot features from former medieval structures fronting onto the road.
Cartographic, documentary and archaeological evidence show that post-medieval manorial farm buildings were within the western part of the subject site. An archaeological evaluation to the west has shown it is very likely the foundations of some of these buildings and associated structures will have survived under later deposits.
Actions (login required)