Clarke, Rachel (2010) Land at Neatherd Moor, East Dereham, Norfolk. [Client Report] (Unpublished)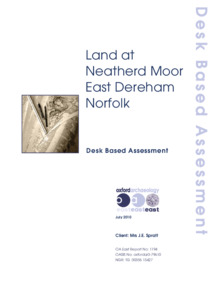 Preview
PDF




Report1194_DBA_LR.pdf


Available under License Creative Commons Attribution Share Alike.
Download (2MB) | Preview
Abstract
In late June 2010, Oxford Archaeology East was commissioned to undertake a rapid desk-based assessment of land at Neatherd Moor, Dereham, Norfolk. The assessment will form part of a Local Development Framework (LDF) promotion of the site.
A search of the Norfolk Heritage Environment Record (NHER) indicates that there is potential for the survival of prehistoric remains within the study area. There are numerous find spots, including a Palaeolithic flint and Neolithic axes, in addition to possible occupation sites represented by hearths of Bronze Age date, a burnt mound and a flint-working site, many of which have been found on or near Neatherd Moor. Recent metal-detecting surveys both within and in the vicinity of the study area have produced finds spanning the Iron Age to post-medieval periods, including the discovery of a hoard of over one thousand Roman coins from a nearby field to the north-east. The finds from a survey of the eastern field (field 1) of the study area, however, only produced post-medieval finds. Of note, there have been very few archaeological excavations within Dereham, and more specifically in proximity to the study area.
The two fields forming the study area were probably once part of the extensive commons and wastelands of the parish, but had been enclosed some time before the late 18th century, prior to the main Enclosure Act of 1812. Neatherd Moor Common, formerly described as Galewetremor (Gallows Tree Common) in medieval documents, survives today as an important open space and wildlife habitat. The embanked and ditched lane forming the northern boundary could be medieval in origin and would have linked Neatherd Moor with Etling Green to the east. A former Deer Park is located a short distance to the north-east of the study area; this was documented in AD1251 as part of the survey of lands held by the Bishop of Ely. This document also describes the commons and wastelands of the manor, how they were managed and what their relative incomes were.
There are a number of historic maps and aerial photographs that depict the study area which show relatively little change over the last 200 years. Generally the two fields appear to have been under arable cultivation since at least the late 18th century, which may have affected any sub-surface archaeological remains. There has been some residential development along the Norwich Road to the immediate south of the site during the latter part of the 20th century. At this time the southern boundary to the eastern field appears to have been extended southwards; the faint cropmark of the former boundary can be traced on an aerial photograph taken in 1988.
Actions (login required)