Pickstone, Alexandra (2010) Late Bronze Age to Early Iron Age Wells and Medieval Occupation at Neale Wade Community College, March, Cambridgeshire. [Client Report] (Unpublished)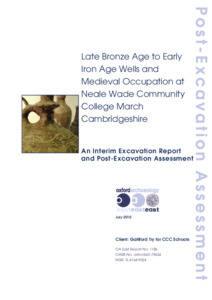 Preview
PDF




Report1186LR.pdf


Available under License Creative Commons Attribution Share Alike.
Download (946kB) | Preview
Abstract
An archaeological excavation was carried out between the 6th and 30th April 2010 by Oxford Archaeology East (OA East) in advance of an extensive scheme of works to redevelop Neale Wade Community College. Following on from an evaluation and watching brief also conducted by OA East this excavation formed the first stage of archaeological works/interventions currently planned for this development.
The excavation uncovered evidence of Late Bronze Age and Iron Age activity with the discovery of a series of Late Bronze Age (LBA) wells dug into a modified natural hollow and a single possible Iron Age ditch. Preserved timber and an antler pick were recovered from the wells along with rich environmental samples. Pollen (column) samples were taken for future analysis.
Three phases of Medieval activity have been identified dating from the mid 12th to mid 16th centuries. Preliminary results show a series of boundary ditches with small internal sub-divisions with a later phase of large potentially industrial pits dug along the largest of the boundary ditches.
There was no evidence of Late Iron Age through to Saxon occupation.
Actions (login required)