Clarke, Rachel (2010) Land at Ermine Street, Huntingdon. [Client Report] (Unpublished)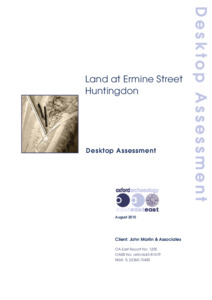 Preview
PDF




Report1205_LR.pdf


Available under License Creative Commons Attribution Non-commercial Share Alike.
Download (2MB) | Preview
Abstract
In August 2010 OA East were commissioned by John Martin and Associates to undertake an archaeological desk-based assessment on land at Ermine Street, to the south of Great Stukeley. This work has taken place pre-planning and will form part of an Environmental Statement in support of a planning application for a c.50ha site on the north-western edge of Huntingdon.
The study site is located within the Great Ouse Valley, an area rich in prehistoric remains. Unusually, the study area has already been subject to an extensive programme of survey and evaluation including a desk-based assessment, aerial photographic interpretation, geophysical survey, fieldwalking and evaluation by trial-trenching over a period spanning 1998 to 2004.
This current study has aimed to review and update where appropriate the available historic, cartographic and HER evidence, and combine this with collation of the results of the previous surveys and investigations both within and around the study area. This has enabled a more comprehensive overview of the potential archaeological character of the site to be explored.
There is high potential for the presence of prehistoric (Late Bronze Age) and Roman features within the study area. Four main zones of activity have been identified by the previous work, mostly comprising features associated with agriculture and in particular stock management. These are largely concentrated within the south and western parts of the study area, although features (many of them undated) were generally scattered across the site.
Of significance is an area of possible settlement and/or ceremonial-related activity that appears to be contemporary with the Late Bronze Age field system. An undated ring ditch, possibly the remains of a ploughed-out barrow, was also identified in the south of the study area.
The plan and consistent north-west to south-east alignment of the Roman fields and enclosures indicates a high degree of homogeneity and planning, suggesting that they may have been laid in relation to a major line of reference such as Ermine Street. No evidence of this Roman road, which purportedly forms the eastern boundary of the site, was identified, or indeed any enclosures or ditches offset from it.
Later activity is represented by medieval furrows which are present across much of the study area.
Survival of features is generally good from both main periods of activity although modern ploughing has resulted in some truncation. No earthworks are present within the study area. Potential for the survival of palaoenvironmental remains is likely to be moderate; at least one waterlogged deposit was identified. Relatively small quantities of finds mostly comprising pottery, flint, animal bone and a small number of post-medieval metal finds was recovered during the evaluation. The absence of significant assemblages within the study area may reflect its more agricultural basis and peripheral location in relation to the presumed focus of contemporary settlement identified by geophysical survey and aerial photography to the north-west of the study area, south of Brookfield Farm Cottages.
Actions (login required)