Bashford, Robin and Simmonds, Andrew First Quad Works, Jesus College, Oxford. [Client Report] (Unpublished)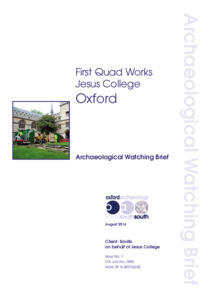 Preview
PDF




OXJECO14_WB_PdfA.pdf


Download (1MB) | Preview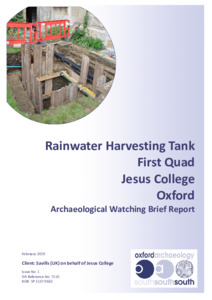 Preview
PDF




OXJECO14_Oxo.pdf


Download (5MB) | Preview
Abstract
In April 2014, Oxford Archaeology was commissioned by Savills (UK) Ltd on behalf of Jesus College, Oxford, to undertake an archaeological watching brief during the installation of a new platform lift and the excavation of service trenches for electric lighting and a sprinkler system within the First Quad, Jesus College, Oxford (SP 51409 06350). A trench for the installation of a new rainwater collection tank encountered significant archaeological deposits which will be the subject of a separate report. The remainder of the trenches did not impact below the 19th century garden soils of the quad, and no significant archaeological deposits or features were revealed. The exceptions to this were two brick-lined drainage channels which were aligned off existing downpipes within the quad. As the existing downpipes appear to be contemporary with the crenellations added to the buildings within the First Quad in the early 19th century (or at the very least incorporated into the new configuration), it seems likely that the brick drainage channels date from this phase of works.
During April 2014, Oxford Archaeology undertook an archaeological watching
brief within First Quad at Jesus College, Oxford, during the installation of a
rainwater harvesting tank. The trench did not reach the bottom of the
stratigraphic sequence, but the earliest features exposed were a group of
intercutting pits dating from the 11th-13th centuries that probably represent
backyard activity associated with occupation on the frontage of Cheyney Lane
(now Market Street). One of these pits contained an assemblage of burnt grain
similar to deposits recorded by a previous excavation in the college kitchen
and at 113-119 High Street, All Saints Church and Lincoln College. Further
medieval deposits were associated with a substantial, but largely robbed-out
wall that probably formed part of Great White Hall, an academic hall that
preceded the college. Finds deriving from the time of this academic hall
included a number of ceramic oil lamps. Evidence relating to the college was
limited to a sequence of surfaces and garden soils associated with landscaping
of the quad.
Actions (login required)