Hughes, Vix Land at Clipstone, Leighton Buzzard, Bedfordshire. [Client Report] (Unpublished)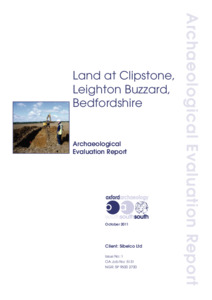 Preview
PDF




EGCLIP11.pdfa.pdf


Download (10MB) | Preview
Abstract
Oxford Archaeology South (OAS) was commissioned by Andrew Josephs Ltd, on
behalf of Sibelco Ltd, to undertake an evaluation of land at Clipstone, east of
Leighton Buzzard, Bedfordshire (centred on SP 9500 2700). It is proposed to extract
minerals from the site.
The work was undertaken between 8th - 12th August and 5th - 9th September 2011.
The evaluation confirmed and enhanced the results of previous evaluation work
carried out at the site.
A sparse scatter of Bronze Age to early Iron Age features were recorded in both
phases of evaluation. The current work indicated that at least some of these
features may be of middle Bronze Age date.
Previous work had demonstrated the presence of two areas of late Iron Age/early Roman settlement, one in the northern part of the site and one extending into the southern part. The current evaluation confirms this general pattern. In addition, some evidence of outlying field boundaries was located to the east of the northern settlement. The suggestion that some form of activity continued into the later Roman period is reinforced with the discovery of later Roman pottery in a ditch close to the southern settlement.
The truncated remains of medieval or early post-medieval ridge and furrow agriculture were widespread across the site.
Actions (login required)