Atkins, Robert (2012) Roman ditches and post-medieval quarry pits at No. 37 Lower End, Swaffham Prior. [Client Report] (Unpublished)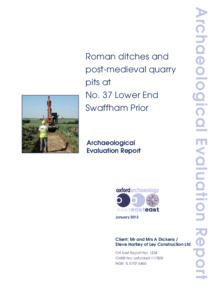 Preview
PDF




Report 1324_LR+WB.pdf


Available under License Creative Commons Attribution Share Alike.
Download (1MB) | Preview
Abstract
On 5th January 2012 OA East conducted an archaeological evaluation at No.37 Lower End, Swaffham Prior prior to the proposed construction of a house extension and a new swimming pool (TL 5707 6460). The archaeological work comprised two c.5m long evaluation trenches targeted within the footprint of each of the two construction areas.
In the area of the house extension (Trench 2) there were two ditches which were probably associated with a long lived Late Iron Age to Roman settlement. The earliest of the two ditches was likely to have been dug in the Latest Iron Age period and then backfilled in the very early Roman period (mid 1st century AD), while the second ditch was backfilled in the 2nd century or later. In the former there was a significant unabraded collection of pottery and two large animal bones (horse tibia and a cattle jaw) suggesting that domestic occupation was probably located just beyond the evaluation trench. An environmental sample from this ditch indicates that cereals were being processed and/or cooked nearby. The second ditch was fairly sterile and was dated by a single pottery sherd. The second trench within the area of the proposed swimming pool only revealed inter-cutting 18th century quarry pits; activity that would have removed any earlier archaeological remains.
The two trenches were within the area of a moated medieval manor called Shadworth, which is recorded in documents from AD 1330. It is perhaps surprising that no features dating to this period were found and only three residual medieval and late medieval pottery sherds were recovered.
Actions (login required)