Fletcher, Taleyna (2013) Roman Field Systems on Land West of Rookery Farm, Stow Longa, Cambridgeshire. [Client Report] (Unpublished)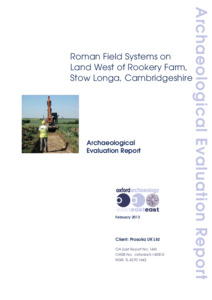 Preview
PDF




STLRFA12_report 1441_LR.pdf


Available under License Creative Commons Attribution Non-commercial Share Alike.
Download (1MB) | Preview
Abstract
Between the 9th and 18th of January 2013, Oxford Archaeology East conducted an archaeological evaluation on land west of Rookery Farm, to the immediate south of Stow Longa, Cambridgeshire.
The site is located on the northern side of a former WW2 airbase which was originally built in 1941 for RAF Bomber Command and expanded for use by American heavy bombers during 1942. After World War II, the airfield was closed but maintained in a "standby" status until the early 1960s. It has been used for arable farming since this time.
The evaluation consisted of 34 machine excavated trenches across a single field. All trenches were either 50m or 100m in length and orientated north-south or east-west.
The evaluation revealed six fairly narrow, shallow ditches which continued across the site in a number of trenches. Orientated mostly north-west to south-east and north-east to south-west, these ditches are thought to be part of a field system. A single sherd of shell-tempered pottery of Roman date, was recovered from an excavated slot through one of these ditches in Trench 32. These ditches may represent an outlying field system dating to the Roman period associated with a Roman farmstead recorded during an evaluation of the Bicton Windfarm site 350m to the south-west carried out by Oxford Archaeology East during 2010.
The investigation also revealed parallel furrows surviving in every trench on a north-east to south-west orientation. These were previously identified on an aerial photographic survey carried out in 2007 for a desk-based assessment by OA East in advance of an Anglian Water Pipeline. A single sherd of medieval pottery was recovered from the surface of one of these furrows; the furrows were recorded as truncating the ditches in two separate locations.
Other than drains, fired munitions and fragments of metal, no evidence of the airfield was encountered.
Actions (login required)