Fletcher, Taleyna (2013) Archaeological Investigations into a blocked-up doorway at St Peter's Church, Horningsea, Cambridgeshire. [Client Report] (Unpublished)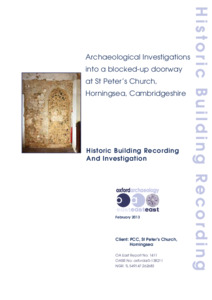 Preview
PDF




Report 1411_LR.pdf


Available under License Creative Commons Attribution Share Alike.
Download (1MB) | Preview
Abstract
In October 2012, Oxford Archaeology East carried out historic building recording on a blocked-up doorway which had recently been discovered at the Grade I Listed St Peter's Church, Horningsea. A small amount of investigative work was also carried out to establish if the doorway could be opened up and put back into use.
Proposals for new lavatory arrangements led to the removal of plaster from the western wall of the south aisle of the church. This revealed a blocked doorway constructed of clunch. On the other side of the doorway is a small area referred to as the Sextons "shed" that is believed to have been constructed in the 19th century from a design by Thomas Jeckyll made in 1866.
A full descriptive and drawn record was made of the exposed blocked-up doorway before 300mm of the upper infill was carefully removed. This investigative work revealed that the doorway had been blocked up using lime mortar with inclusions of large flint stones, clunch blocks and fragments of 18th century peg tile.
The flint and mortar infill was removed to a depth of 300mm using a hammer and chisel and the full width of the clunch doorway was revealed. The same material used to block up the doorway continued through and due to physical restrictions it was not possible to extend any further into the doorway than 200mm.
The doorway is believed to be 14th century in date and contemporary within its setting in this part of the building. It is thought that the doorway may have originally provided access into a former annex which may have dated to the 14th century (RCHM). The continuation of the 18th/19th century infill beyond the opening itself would suggest the wall had been repaired on the other side (within the 19th century Jeckyll extension) using the same material at the same time that the door was blocked up.
Actions (login required)