Atkins, Robert (2012) Medieval and post-medieval remains at Intercell House, Coldhams Lane, Cambridge. [Client Report] (Unpublished)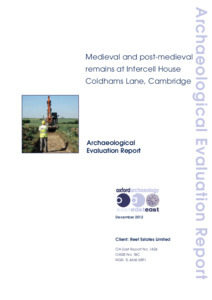 Preview
PDF




CAMCOL12_report1424_final_LR.pdf


Available under License Creative Commons Attribution Share Alike.
Download (4MB) | Preview
Abstract
Archaeological evaluation by Oxford Archaeology East at Intercell House, Coldhams Lane, Cambridge (TL 4656 5891) was conducted over 19th-22nd November 2012. Six archaeological trenches were excavated in advance of a proposed new hotel. Post-medieval map and documentary evidence shows that the extreme southern part of the site was within farmland once owned by Barnwell Priory. The evaluation showed that the remainder was within the former lay settlement attached to the priory.
A small number of residual early medieval pottery sherds including St. Neots ware may suggest that the site was occupied in this period, but significant later truncation on the site could have removed any features dating to this time. An area of medieval quarry pits, some intercutting, were found within three trenches over a 20m distance near to Coldhams Lane and were presumably dug to recover sand and gravel for nearby construction. A small assemblage of finds including pottery dating between AD 1200-1400 were found within the pits. Bulk environmental samples from two of the pits produced a moderate to large collection of charred seeds, mostly cereals with wheat, barley and oats prevalent but also a few weed and herb seeds. These samples also recovered several small animal bones including fish as well as three molluscs shells.
There was no definite evidence of late medieval occupation within the site. It is possible that activity restarted from the 16th or 17th century indicated by two layers recorded within adjacent trenches. A clunch wall, probably c.AD 1700 in date, was recorded perpendicular to Coldhams Lane frontage, and may represent a boundary wall or part of a homestead documented in this area of the site in the Enclosure Awards and a map dating to 1807-1812 as belonging to the overseers of the poor of Barnwell. Two 18th century pits were found in an area that the 19th century maps suggest was a courtyard to properties fronting Newmarket Road. There was extensive evidence for buildings within the site that are likely to date from the mid 19th century.
Item Type:
Client Report
Uncontrolled Keywords:
Evaluation, evaluation, archaeological evaluation, Cmabridgeshiore, cambridgeshire, Cambridge, cambridge, Coldhams Lane, coldhams lane, medieval, Medieval, Post-Medieval, post-medieval, Post Medieval, post medieval, Barnwell, barnwell, Barwell Priory, barnwell priory, lay settlement, settlement, farmland, agriculture, farming, medieval pottery, Medieval pottery, Post-Medieval pottery, post-medieval pottery, Post Medieval pottery, post medieval pottery, Pottery, pottery, pot, ceramic, sherd, animal bone, animal remains, animal bones, bone, bones, clunch, wall, clunch wall, boundary, homestead, enclosure, enclosure act, Enclosure Act, Newmarket Road, newmarket road, 1424, report 1424, Report 1424, OAE report 1424
Subjects:
Geographical Areas > English Counties > Cambridgeshire
Period > UK Periods > Iron Age 800 BC - 43 AD
Period > UK Periods > Medieval 1066 - 1540 AD
Period > UK Periods > Post Medieval 1540 - 1901 AD
Divisions:
Oxford Archaeology East
Depositing User:

Chris Faine

Date Deposited:
05 Sep 2014 12:53
Last Modified:
16 Aug 2019 10:20
URI:
http://eprints.oxfordarchaeology.com/id/eprint/1929
Actions (login required)