Heistermann, Christof (2011) Archaeological Watching Brief Report: Ouse Washes, Habitat Creation Scheme, Coveney, Cambridgeshire. [Client Report] (Unpublished)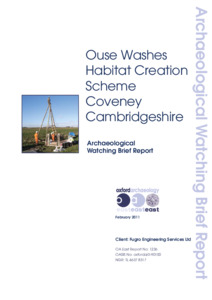 Preview
PDF




Report1236_LR.pdf


Available under License Creative Commons Attribution Share Alike.
Download (3MB) | Preview
Abstract
In October 2010 Oxford Archaeology East undertook a Watching Brief on geotechnical boreholes and testpits associated with a 200ha Habitat Creation Scheme adjacent to the Ouse Washes, near Coveney, Cambridgeshire.
The excavation of 8 boreholes and 7 test pits were monitored across the site. The purpose of the Watching Brief was to provide base-line data regarding the character, extent and archaeological potential of the alluvial and peat stratigraphy that may be effected by the Scheme.
The sedimentary sequences recorded in the interventions broadly comprised a relatively shallow Holocene peat of probable Bronze Age and later date, overlying a complex of late Devensian deposits related to cold climate solifluction, fluvial and aeolian processes. In places these deposits overlay fluvial gravels of Pleistocene
age above the bedrock geology of Ampthill Clay. A discrete organic horizon lying at depth within the Pleistocene sequence may relate to temperate stage deposits
known to exist in the area, either the Ipswichian Interglacial or Devensian Late Glacial Interstadial.
Although no archaeological features or artefacts were observed during the Watching Brief, a number of archaeological sites are known to be present within the Study Area and in the immediate vicinity. Within the Study Area this comprises artifact scatters of Mesolithic and Neolithic date, probably associated with a relict dryland
ground surface at the interface between the peat and late Devensian deposits. In the interventions observed this interface lies on average within 0.5m and 1.0m below the current ground surface, although locally reaches a depths of up to 1.45m.
Actions (login required)