Gilmour, Nick and House, Jonathan (2012) College of West Anglia, The Isle Campus, Wisbech, Cambridgeshire. [Client Report] (Unpublished)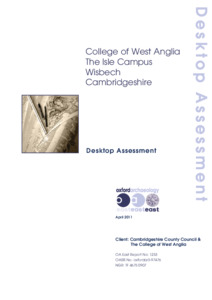 Preview
PDF




WISCWA11_report 1253_LR.pdf


Available under License Creative Commons Attribution Share Alike.
Download (1MB) | Preview
Abstract
The study was commissioned by Fusion Project Management Ltd, on behalf of Cambridgeshire County Council and The College of West Anglia, in advance of the proposed development of the College of West Anglia, Wisbech. The college is located approximately 0.5km to the south of the town centre of Wisbech, grid reference TF 4675 0907.The purpose of this report is to assess the potential for, and degree of survival of any archaeological remains within the development area.
The development area is considered to be of have a low potential for archaeological remains. Two previous evaluations to the south of the town (ECB2880 and ECH3282) at a similar distance from the centre of the town, both showed very little significant archaeological remains, those that were recorded were of post medieval date.
There may be some potential for Prehistoric remains but these deposits are likely to be at a substantial depth, overlain by water-borne sediments in the form of both silts and clays, from both marine and alluvial processes.
The degree of preservation is hard to gauge due to the lack of archaeological remains in the vicinity from which to judge, however the clay deposits are likely to be favourable for the survival of archaeology remains. The variable nature of the water table means that waterlogged remains would only be likely to be present in deep deposits/features.
Actions (login required)