House, Jonathan (2012) Roman Remains at Former VA Marriot Ltd Site, Handford Road, Ipswich. (IPS659). [Client Report] (Unpublished)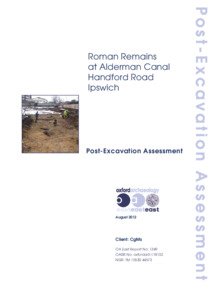 Preview
PDF




XSFHAN12_1349_LR.pdf


Available under License Creative Commons Attribution Share Alike.
Download (2MB) | Preview
Abstract
OA East carried out an Excavation following on from an Evaluation conducted by Wessex Archaeology, on land to the south of Handford Road (IPS659), within the city of Ipswich. The project was undertaken on behalf of CgMs, for McCarthy & Stone Retirement Lifestyles Ltd, for the development of a new retirement home.
The excavation found evidence for Early Roman occupation that comprised mainly ditches and pits, including a possible east to west ditched trackway in which Neonate Human Skeletal Remains were found. The excavations also produced a good assemblage of Early Roman, as well as a smaller group of mid-to-late Roman, pottery associated with a small number of pits and ditches. The ceramic evidence suggests that the settlement was in decline by the late 2nd century AD.
An extensive layer of soil that covered much of the site and had similar characteristics to a deposit found during excavations to the west by the Suffolk Archaeological Unit (IPS280)may be a reworked Roman occupation or midden.
A single sunken featured building was found of probable although not definite Anglo-Saxon date. Only one sherd of pottery dating to this period came from the excavation, although the previous evaluation produced 9 sherds.
The evidence for all other post-Roman activity is largely in the form of finds, few features of these dates were present, with the exception of a medieval ditch, possibly forming a boundary and an extensive layer of soil that contained a large amount of Roman pottery mixed with post-medieval finds. The interpretations could be Roman features have been truncated and thoroughly mixed by cultivation or later re-working of a Roman occupation layer.
Actions (login required)