Fletcher, Taleyna (2012) The Talbot Hotel, Oundle, Northamptonshire Historic Building Recording and Archaeological Monitoring. [Client Report] (Unpublished)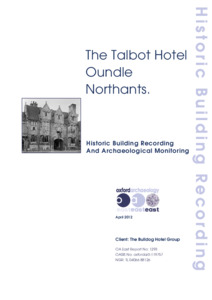 Preview
PDF




XNNTHO11_Report_1293_Final_lr.pdf


Available under License Creative Commons Attribution Share Alike.
Download (19MB) | Preview
Abstract
In August 2011 Oxford Archaeology East carried out a historic building survey at the Talbot Hotel in Oundle, Northamptonshire. The work was undertaken in advance of a number of minor internal and external alterations to the Grade I listed former medieval coaching inn. A photographic, descriptive and drawn record was created equivalent to an English Heritage Level 3 survey on the elements of the hotel due to be altered, all of which date to the mid 20th century. The survey has served to record the alterations made to the historic building fabric during the 20th century including bricked-up doorways and insertion of partitions.
A second phase of work was undertaken in November 2011 as an archaeological watching brief was required following the demolition of a single storey restaurant in the courtyard area and during ground reduction in the garden area at the rear of the hotel. There were no surviving archaeological remains noted at the rear of the building during monitoring, however a cobbled surface, wall foundations and a well were recorded in the courtyard area. Decorative floor tiles were also revealed in the courtyard area which are thought to be from the 1949 extension or from the the 1917 "icehouse" which was also previously located here.
The Talbot Hotel is located on New Street which lies within the core of the historic market town. It is widely believed that the inn was redeveloped in 1626 and documented in many historical works as having made use of a staircase and windows from the nearby Fotheringay Castle which had fallen into decline around that time. What is less well documented or researched however, is the existence of an inn, its size or associated buildings on the site prior to this date.
Architect's and historian's appraisals suggest that a hotel existed on the site prior to the current Talbot Hotel and an early timber-framed building located within the south wing may represent the earliest phase due to the nature of construction and the material used which stands out in the local oolitic stone setting.
Actions (login required)