Atkins, Robert (2012) Kings Lynn Power Connection. Archaeological Evaluation. [Client Report] (Unpublished)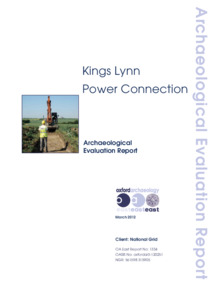 Preview
PDF




Report1334_full_LR.pdf


Available under License Creative Commons Attribution Share Alike.
Download (1MB) | Preview
Abstract
On 14th and 15th February 2012, OA East carried out an archaeological evaluation for a proposed overhead electricity connection to the south of Kings Lynn and west of near West Winch (NGR 561598 315905). The archaeological work comprised nine evaluation trenches targeted within the footprints of nine proposed new pylon towers. No pre-modern archaeological features or artefacts were found by the evaluation. Part of a 19th century structure and a modern field boundary were exposed in two of the trenches.
All trenches were excavated to a maximum depth of 0.50m in compliance with NG Health and Safety procedures. In each case this was sufficient to expose the upper surface of silt and clay deposits. No archaeological features were observed at this depth. As a supplement to the trenches and in order to test the underlying peat and silt sequence, each of the trenches was augered by hand to a maximum depth of 4m. Together with the results of a previous borehole survey it is possible to reconstruct the deposit sequence. Solid geology (Kimmeridge clay) was reached at between c.4.2m to 10m depth below ground level). The Kimmeridge Clay is sealed by slightly organic clays or gravelly or sandy clays and it is uncertain whether these deposits are pre-Flandrian or Flandrian in date. Sealing these deposits are deposits of peat and pockets of peat found within the clay, Peat deposits were recorded in eight of the surveyed locations. The peat deposits are almost certainly of Flandrian date formed by rising water levels. The peat layers are now desiccated - certainly the upper levels - suggesting that the medieval to modern drainage of the area has dried up these deposits.
Sealing the peat are clay and silt deposits directly below the topsoil. These clays and silts are up to 1.8m thick, and are likely to have continued to be deposited into the medieval period at which time sea defences were constructed, preventing further silting and allowing the land adjacent to the river Nar to be brought into agricultural use. A suspected up-standing medieval salt making area (saltern), and other features and objects of this period have been found during investigations within a few hundred metres of the site (aerial photographs, excavations, field walking and metal detecting). By contrast no definite features or artefacts of earlier (prehistoric, Roman or Saxon) date have been recovered in the same area.
Actions (login required)