Watkeys, Daniel Barwell West Leicestershire. [Client Report] (Unpublished)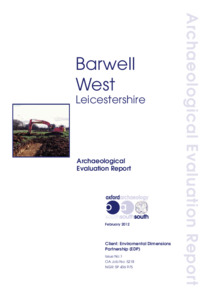 Preview
PDF




X.A175.2011.pdfa.pdf


Download (5MB) | Preview
Abstract
Oxford Archaeology was commissioned by The Environmental Dimension Partnership (EDP), on behalf of Ainscough Strategic Land Ltd, Barwood Homes Ltd and Taylor Wimpey UK Ltd, to undertake an archaeological evaluation of Land at Barwell West, Leicestershire, centred on National Grid Reference SP 436 975 (Fig.1). The work was carried out in advance of a planning application for proposed development. The work was undertaken between 28th November and 16th December 2011. A geophysical survey had previously identified clusters of magnetic anomalies in the southern, central and northern parts of the site, which were the main focus of the present evaluation. A group of geophysical anomalies to the north of Bosworth House Farm, were located within a series of enclosures identified by Lidar survey and Roman finds made during surface artefact collection surveys.
The evaluation revealed remains confirming the presence of Roman activity, mainly concentrated in the western part of the site near the A447, in the fields to the north of Bosworth House Farm (Fig.2). The distribution of archaeological features found during the trial trenching appears to correspond in general terms with the distribution of geophysical anomalies, although the magnetometer plots do not provide a clear picture of the nature of the Roman activity (Figs.3, 4 and 5). The majority of the features identified were sparsely distributed boundary or drainage ditches, although pits, possible postholes and one severely truncated Roman cremation burial were also found. The Roman remains appear to date predominantly from the 2nd century AD, although possibly earlier and later material is present. The artefact assemblage includes imported decorated samian ware pottery, a fragment of window glass from a Roman context, and a single tessera (mosaic fragment) as well as small quantities of Roman roof and floor/ hypocaust tile, suggesting the presence of a relatively high status settlement in the general vicinity.
Traces of plough furrows were commonplace in many of the trenches, confirming the presence of former medieval/ post-medieval ridge and furrow cultivation.
Actions (login required)