Haskins, Anthony (2013) A Romano-British Kiln, Early Saxon Burial and Multi-Period Ditches at Chilton Leys, Stowmarket. [Client Report] (Unpublished)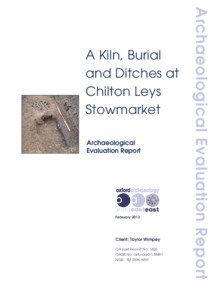 Preview
PDF




Report 1426_LR.pdf


Available under License Creative Commons Attribution Share Alike.
Download (3MB) | Preview
Abstract
An evaluation at Chilton Leys, Stowmarket comprised fifty-three trenches which were excavated between 6th and 22nd November 2012. During the course of the works a range of features of archaeological interest were uncovered, including prehistoric (Late Neolithic and Bronze Age), Roman and Anglo-Saxon material. Of less significance was a series of areas of modern features most likely associated with drainage and the construction of the A14.
The prehistoric material was focused in two main areas. The larger concentration was a series of worked flints recovered from the bases of the trenches and within deposits focused around a hollow within the south-western arm of the site (Trenches 41 and 47). This included a large
assemblage of burnt flint, evidence for blade and narrow flake-based soft hammer knapping, within deposits of either an alluvial or fluvial nature, and a similar assemblage found in two features underlying these deposits. Poorly preserved wood was also found within this material. It was sealed in places by modern deposits which was probably associated with the construction of the A14.
Further evidence of prehistoric occupation was located in the south-eastern corner of the site, in the vicinity of Trenches 51, 42 and 43. This included a pit containing a large assemblage of Late Bronze Age pottery and some postholes and features that could be indicative of Late Bronze Age occupation to the north of these features in Trench 42. Finally, a small isolated pit containing Early Bronze Age material was located in the south-western arm of the site in Trench 11. The pottery and struck flint found within it appears to be a domestic assemblage, suggesting that further features are located in its vicinity.
Material initially believed to be Iron Age, but proving in fact to be very Early Roman, was located in Trench 25 in four small postholes in pairs either side of a truncated fire-pit. Although not certain, this is likely to represent a large double-posted structure forming a focus of occupation.
The later Roman material was primarily located within two parts of the proposed development area. A pottery kiln intact from its perforated floor downwards was found in Trench 50, with its permanent kiln floor resting on what was probably a tongue support. The kiln has been tentatively
dated to the mid 1st to early 2nd century Adjacent to it was a group of clearly associated postholes, that presumably formed a structure designed to control air flow into the flue and perhaps to restrict light levels, which was necessary for temperature management.
A second area of Roman material was located at the northern end of the site. Trenches 14, 15 and 30 produced the most material of this date, with further ditches and other features occurring in the vicinity, including Trenches 16 and 17. This probably represents the edge of an area of
occupation with pits, postholes and a watering hole or well.
One large, shallow pit-like feature was perhaps a sunken-featured building (SFB) of Early Saxon date. Early Saxon burials were located in Trenches 39 and 52, with possible burials in Trench 53.
The burial in Trench 39 contained grave goods including a large sheet metal bowl or cauldron, a spearhead and a seax (a type of knife).
In between the areas mentioned lay various field systems of varying date.
Actions (login required)