Rees, Gareth (2012) A Roman settlement at the proposed Rugby and Daventry Crematorium, Hillmorton, Rugby. [Client Report] (Unpublished)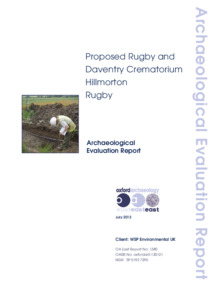 Preview
PDF




Report 1380_LR_3.pdf


Available under License Creative Commons Attribution Share Alike.
Download (1MB) | Preview
Abstract
From the 25th to the 26th of June 2012 Oxford Archaeology East conducted an archaeological evaluation at the site of the proposed Rugby and Daventry Crematorium, Hillmorton, Rugby (SP 5193 7295). The site lay on a south-east-facing mid-slope where a geophysical survey had identified anomalies in a sub-rectangular arrangement between areas of ridge and furrow cultivation. Two trenches were targeted over this anomaly.
The evaluation revealed that these anomalies were two ditches dating to the Middle Roman period. Their size and shape is indicative of field or settlement boundaries and their proximity to each other may suggest that they represent different phases of activity along the same boundary. A pit uncovered in Trench 1 also dated to the Middle Roman period. Several undated postholes that may indicate the location of a structure were recorded in Trench 2.
A relatively large number of ceramic sherds were recovered from the site. These were primarily low-status, sandy coarse wares dated to the Middle Roman period. The assemblage suggests that the site lay in close proximity to a low-status settlement, possibly a farmstead. This may be corroborated by the environmental samples, which produced evidence of chaff, indicating that grain processing took place place near by.
A thick subsoil was recorded sealing the features in this area and this may have derived from colluvium washed down slope during ploughing, particularly in the medieval period, to form a headland between fields. Geophysical survey did not identify any ridge and furrow cultivation in the evaluated area and so it is possible that the site lay between fields that were unaffected by agricultural activity.
It is likely that the archaeological features are more extensive than suggested by the geophysical survey and that further archaeological remains elsewhere on the site have been masked by the later ridge and furrow.
Actions (login required)