Bush, Louise (2014) Covenham Water Treatment Works to Boston Transfer, Lincolnshire Post-Excavation Assessment and Updated Project Design. Project Report. Oxford Archaeological Unit Ltd. (Unpublished)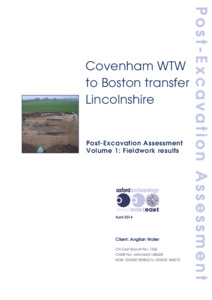 Preview
PDF




CWTW11 Vol.1_LR.pdf


Available under License Creative Commons Attribution Share Alike.
Download (857kB) | Preview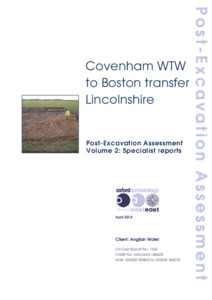 Preview
PDF




CWTW11 Vol.2_LR.pdf


Available under License Creative Commons Attribution Share Alike.
Download (1MB) | Preview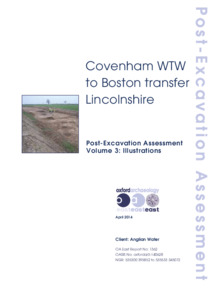 Preview
PDF




CWTW11 Vol.3_LR.pdf


Available under License Creative Commons Attribution Share Alike.
Download (7MB) | Preview
Abstract
Between September 2011 and May 2013 Oxford Archaeology East carried out a programme of archaeological investigations as part of the works for the Covenham Water Treatment Works to Boston pipeline, Lincolnshire (535300 395852 to 535533 345072). These works comprised of geophysical survey, extensive fieldwalking and a series of trial tench evaluations, followed by open area excavation of sites previously identified as being of archaeological interest.
In total 27 excavations were undertaken across the length of the 60km easement. The earliest remains comprised in situ Mesolithic and Neolithic flintworking (identified at one site). Features dating from the Neolithic to Early Bronze Age, along with a background scatter of residual flint tools of Neolithic to Early Bronze Age date were identified at five sites. A single site was seen to contain activity dating purely to the Middle Bronze Age.
The most prevalent remains were those dating to the Iron Age and Roman period with 19 sites producing evidence of settlement. A range of features were identified at each of these sites that included boundary/enclosure ditches and ring gullies as well as groups and alignments of pits and postholes, many of which were associated with varying amounts of domestic refuse. Of the Iron Age and Roman sites, 15 comprised a single phase of activity with no evidence for multi-period use.
Two sites were seen to contain remains of a purely medieval date. A low level of medieval activity was identified at one other site. Almost all of the excavation areas contained medieval/post-medieval ridge and furrow.
Overall, a wide range of stratigraphical, artefactual, environmental and osteological data was recovered. This has been assessed as having good potential for further analysis which will enable a number of research questions of regional importance to be addressed.
Actions (login required)