Bush, Louise (2011) Covenham Water Treatment Works to Boston Transfer. [Client Report] (Unpublished)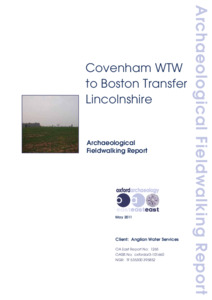 Preview
PDF




Report1265_LR.pdf


Available under License Creative Commons Attribution Share Alike.
Download (23MB) | Preview
Abstract
Between 5 May and 19 May 2011, Oxford Archaeology East carried out an archaeological fieldwalking survey on a 60km long and 30m wide pipeline corridor between Covenham St Mary (535300 395852) and Boston (535533 345072), Lincolnshire. This was undertaken in advance of the laying of a water pipe and the construction of pumping stations, temporary discharge lagoons, borrow pits and construction compounds.
Along its length, the proposed pipeline passes though areas of flat arable farmland, the rolling hills of the Lincolnshire Wolds and the fen edge and fenland landscapes. The pipeline extends through and close to a number of areas of archaeological interest.
The fieldwalking showed a concentration of struck and reworked flint (including a polished stone axehead) south-west of the village of Swaby, indicating the potential for prehistoric activity in the vicinity. A large assemblage of medieval pottery came from fieldwalking just south of Old Bolingbroke, implying the possibility for a settlement site on or near this area. Fields to the immediate east of the village of Sibsey displayed a high proportion of finds from both the Roman and medieval periods.
Due to the wide variety of crops growing along the route of the pipeline, only 19ha (18%) of fieldwalking from the 106.15ha required was undertaken.
Actions (login required)