Lyons, Thomas (2011) Prehistoric and Medieval remains at Cromwell Community College, Chatteris, Cambridgeshire. [Client Report] (Unpublished)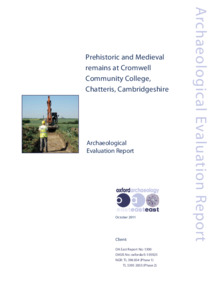 Preview
PDF




CHACCC11_Report1300_LR(1).pdf


Available under License Creative Commons Attribution Share Alike.
Download (4MB) | Preview
Abstract
Oxford Archaeology East was commissioned by Kier Eastern on behalf of Cambridgeshire County Council, to undertake Archaeological Investigations in the grounds of, and on land adjacent to, Cromwell Community College, Chatteris. This was within the footprints of proposed new buildings (Phase 1) and sports pitches (Phase 2). The fieldwork took place in two separate phases with six Trenches located immediately to the south of the existing school buildings and eleven Trenches on arable land south of the southern boundary of the school playing field.
During the first phase of work archaeological features were encountered within two of the trenches with Trench 2 containing what appeared to be several large pits. Following consultation with the Cambridgeshire County Council Archaeology Office Trench 2 was widened to reveal the full extent of the archaeology visible in the trench. A further (much smaller) extension to Trench 3 was necessary to fully reveal an animal burial uncovered in the Trench. Within the widened area of Trench 2 further substantial pits were discovered, as well as a small number of post holes and linear features. These were dated to the late medieval and post medieval periods; an assemblage of post medieval pottery as well as a small number of residual and moderately abraded medieval sherds was recovered from the excavated features. A large sub-circular pit or pond was uncovered near the centre of the excavation area. This contained a large quantity of modern material including glass, china, brick & tile, slate and metal objects.
The second phase of work took place on arable land (formerly part of Tithe Barn Farm) located to the south of the school premises. Eleven trenches were excavated, at least two of which contained evidence for prehistoric settlement, in the immediate vicinity: a pit cluster, dated to the Early Iron Age, was discovered in Trench 14 and a curvilinear gully was revealed in Trench 15. Again, following consultation with the Cambridgeshire CC Archaeological Advice Team both trenches were extended to reveal, within reasonable limits, the full extent of the archaeology. Three other trenches contained undated features which may be prehistoric in date. Towards the east side of the evaluation a headland of ridge and furrow agriculture was present in the field. Three trenches were positioned over this feature It was excavated both by hand and machine and was found to contain no artefacts; there was no evidence for further archaeological features beneath it.
Ahead of the laying of a power cable in the field to the south of the school, a watching brief was undertaken. No further archaeological features, deposits or artefacts were revealed.
Actions (login required)