Fletcher, Taleyna (2012) Broadfield Hall Stables, Hertfordshire. [Client Report] (Unpublished)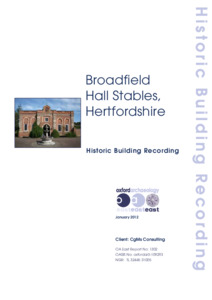 Preview
PDF




XHTBRS11_Approved_Report_LR(2).pdf


Available under License Creative Commons Attribution Share Alike.
Download (3MB) | Preview
Abstract
Between 22nd and 26th August 2011, Oxford Archaeology East conducted a historical building survey at the Grade II* listed stables associated with the former Broadfield Hall which was demolished in the mid 19th century, rebuilt in the later 19th century and finally replaced with the present building constructed in the 1930/40s. The survey was carried out in advance of alterations scheduled to be made to convert the stable building into a modernised residential dwelling.
The stable building has a number of fixtures and fittings relating to use in the 19th century as well as earlier phases of building possibly related to the adjoining farm concealed behind a grand façade supposedly the work of Nicholas Hawksmoor who is known to have been involved is helping James Forrester complete Broadfield Hall in the late 17th century.
This work was carried out in response to a brief issued by Hertfordshire County Council's Historical Environment Unit (CHEU) following recommendation from the local conservation officer. The brief required that a survey (equivalent to an English Heritage Level 4 Survey) was carried out on the existing buildings prior to alterations to the original fabric.
Four main phases of development were identified during the survey; construction of a possibly rectangular shaped building in the late 17th century followed by the addition of a north-south orientated storage barn in the early 18th century. This was followed shortly after by the addition of a façade built to a design by Nicholas Hawsmoor on the south and west elevations concealing the earlier phases of ad-hoc storage barns behind. The façade creates an impressive addition to the buildings and is a statement of wealth and xxx with the facade encompassing the western elevation allowing it to be the first glimpse of the site on entry from the road. A cupola was also added which surmounted the central pediment. This phase of early 18th century works sees the addition of an entrance arch with large panelled doors providing access to a coach house, stable and storage areas with a ladder providing access to first floor accommodation, perhaps for a coachman or stable-hands. In the 19th century, with the rebuilding of Broadfield Hall the stable building is refurbished with three large loose boxes and panelling is added to the coach-house, a new staircase is added and the cupola is removed to be replaced with a clock.
Actions (login required)