Gilmour, Nick (2014) Early Neolithic to medieval archaeology at Dimmock's Cote Quarry, Wicken, Cambridgeshire Archaeological Investigations from 1992 to 2011. [Client Report] (Unpublished)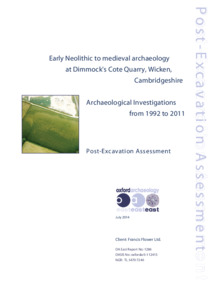 Preview
PDF




Report1286_LR.pdf


Available under License Creative Commons Attribution Share Alike.
Download (14MB) | Preview
Abstract
Between 1992 and 2011 a series of archaeological excavations and an evaluation were carried out in advance of limestone quarrying at Dimmock's Cote, Wicken, Cambridgeshire, by Oxford Archaeology East (formerly CAMARC and Cambridgeshire County Council Archaeological Field Unit). These investigations encompassed a total stripped area of c.5.3ha and a total study area of c.7.9ha.
This document brings together the results of all of the archaeological interventions within the current quarry area. These revealed activity of Early Neolithic to post-medieval date. Notably, several Early Neolithic pits were identified, which contained significant quantities of pottery and flint, including a single piece flint sickle-knife. Moderate quantities of Early Neolithic flint and pottery were also recovered from natural solution hollows.
Early Bronze Age activity included a C-shaped monument, whose ditch contained a small collared urn. In addition, several sherds of Beaker pottery were found within two pits. There was also evidence for Middle Bronze Age activity and significant Late Bronze Age finds. These included a very tightly crouched inhumation burial, which has been radiocarbon dated to 1130-900BC and a series of pits and postholes. Among these was a rectangular six-post structure, from which several sherds of pottery were recovered, while a complete loom weight was found in a further posthole nearby.
The most significant Iron Age find was a crouched burial, with a complete pottery vessel, radiocarbon dated to 350-30BC. A rectangular enclosure with a series of internal postholes may represent an Iron Age shrine. However, very little pottery, a whelk shell and an intrusive fragment of a horseshoe were recovered from it.
Roman remains included field system ditches and an enigmatic sub-circular feature. This may have been a hayrick, but it was isolated and yielded a significant pottery assemblage suggestive of occupation and perhaps association with a small structure, possibly a shelter for a shepherd.
Ridge and furrow were present across most of the site, as were a series of small grub huts. These contained pottery of 12th to 14th century date and were aligned on a ridge in the ridge and furrow. They were unusually small and late for traditional grub huts and the small finds assemblages they contained argues against full time occupation. Two silver pennies were found, one in a furrow and the other in the ploughsoil.
Actions (login required)