Phillips, Tom (2011) Land between Park Terrace and Camden Court, Cambridge. [Client Report] (Unpublished)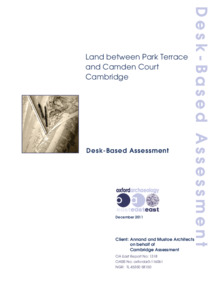 Preview
PDF




Report_1318_LR.pdf


Available under License Creative Commons Attribution Share Alike.
Download (16MB) | Preview
Abstract
In December 2011 Oxford Archaeology East undertook a desktop assessment to examine the available historical and archaeological resources relating to a plot of land between Park Terrace and Camden Court, Cambridge. The plot fronts onto St Andrew's Street/Regent Street and is occupied by No. 1 Regent Street. The rear of the plot is a car-park. In the eastern corner is a Grade II listed building, Furness Lodge. The work was commissioned by Annand and Mustoe Architects on behalf of Cambridge Assessment.
Archaeological remains dating earlier than the medieval period are very rare in the immediate vicinity of the study area. The site is situated beyond the medieval limits of the town, the traditional edge of which, the King's Ditch, would have been located 250m to the north-west. The study area does, however, lie very close to the site of a 13th century Dominican Friary, the exact limits of which are unknown. The Friary was in use until the time of the Dissolution, following which it became the site of Emmanuel College. There is a wealth of cartographic evidence for the subject site; it first appears on the John Speed map of 1610 and is featured on nearly all subsequent maps of Cambridge, albeit on the very edge until the middle of the 19th century. From the late 18th century there are buildings on the site fronting onto St Andrew's Street, while a substantial portion of the car park area remained undeveloped until recently.
The most likely date of any archaeological remains on the site is either medieval or post-medieval although earlier remains should not be ruled out altogether. The fact that the car park area has remained relatively undeveloped means there should be a high degree of survival within this area, although unrecorded forms of activity such as quarrying should be allowed for.
Actions (login required)