House, Jonathan (2012) Prehistoric and Roman Remains at South Gate Hotel Site, Thremhall Avenue, Stansted Airport. [Client Report] (Unpublished)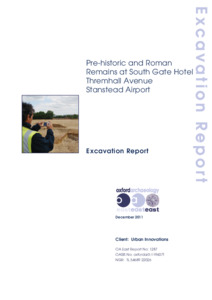 Preview
PDF




Report_1287_lr2.pdf


Available under License Creative Commons Attribution Share Alike.
Download (8MB) | Preview
Abstract
Between the dates of 05/05/2011 and 20/05/2011 Oxford Archaeology East carried out an archaeological excavation to the south of Stansted airport. The site is located within an area known within the greater Stansted airport development as South Gate, the sites southern boundary being formed by the east, west running A120.
Prior trial trenching was not required on the site, due to the extensive previous excavations surrounding the site. A brief was issued subsequent to the stripping of the agreed excavation area.
The excavation of the exposed archaeological deposits revealed Prehistoric remains that included a sequence of inter-cutting pits, some of which contained pottery of Bronze Age date. These features possibly represented watering holes that were either in continuous use or re-visited perhaps seasonally over an extended period of time. A large number of amorphous tree throws were recorded throughout the excavation area and a small number of these contained worked flints dating from the Mesolithic to early Bronze Age.
Early Romano-British field systems were also identified that formed part of a wider network of fields recorded during previous excavations.
At the western end of the site a palaeochannel was seen running roughly north-west to south-east. The deposits within the channel contained well stratified finds from each of the aforementioned periods, up to the post medieval period.
Actions (login required)