Clarke, Rachel (2014) Excavation and watching brief to the rear of Thingoe House, Bury St Edmunds, Suffolk. [Client Report] (Unpublished)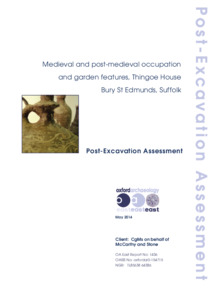 Preview
PDF




Report 1436 PXA1 Final LR.pdf


Available under License Creative Commons Attribution Share Alike.
Download (6MB) | Preview
Abstract
An excavation and subsequent watching brief by OAE on land to the rear of Thingoe House, Northgate Street, Bury St Edmunds (TL 85638 64386) revealed a stratified sequence spanning the medieval to modern periods. Evidence includes extensive quarry pits and a probable kitchen of medieval (12th-14th century) date, a number of late medieval and post-medieval buildings with associated cess-pits and a stone-lined a well. Horticultural features, including planting beds, pits and paths, were also recorded across the site, which date from the early post-medieval to modern periods, some of which can be related to cartographic depictions of the Georgian and Victorian gardens associated with Mustow House and Thingoe House.
Moderately large assemblages of brick/tile and pottery were recovered, along with shards from several Venetian-style glass vessels and numerous metal objects. Items of note include a group of 17th-century plant pots, fragments of ?water pipes, a complete tin-glazed earthenware Albarello and part of a veil or head dress frame; most of these were found in the backfill of the stone-lined well. Other metal finds include part of a copper-alloy mirror case, two 'Boy Bishop' tokens and numerous dress accessories and items related to horses.
Environmental remains preserved by both charring and mineralisation, together with the animal, insect, fish and amphibian bones, provide good evidence for environment, diet and economy during the medieval and early post-medieval periods.
Actions (login required)