Bush, Louise (2013) Bishop's Stortford North, Hertfordshire Phase II Archaeological Evaluation. [Client Report] (Unpublished)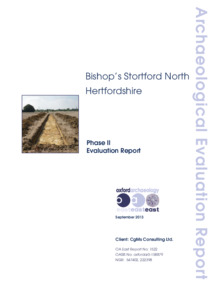 Preview
PDF




Report Final 1522_LR.pdf


Available under License Creative Commons Attribution Share Alike.
Download (4MB) | Preview
Abstract
Between the 27th August and the 11th September 2013 Oxford Archaeology East carried out a trial trench evaluation on land north of Bishop's Stortford, Hertfordshire (547402, 222398). The 36.5 hectare site (Areas 1 to 4) is part of a larger 148 hectare development area proposing to contain some 2,700 dwellings, retail shops and other related infrastructure, alongside schools and areas of open space with differing functions.
This phase of trenching (Phase II) follows on from an initial phase carried out by Wessex Archaeology in August/September 2012. The Phase I evaluation covered the full 148ha. Within Areas 1 to 4 there were 20 Phase I trenches, ten of which contained archaeological features of pre-modern date. Two areas of prehistoric occupation were recorded within Area 1, evidence for field systems in Areas 2 & 3 and no archaeological features in Area 4.
In the Phase II trenching archaeological features were recorded across the site dating from the Late Bronze Age to Early Iron Age periods through Middle Iron Age, Late Iron Age and Romano-British. Low levels of post-medieval archaeology was also present. The south-eastern corner of Area 1 revealed four small storage pits (in Trenches 64 and 65) potentially dating from the Late Bronze Age period. A further pit was seen on the western side of Area 1 in Trench 72, in close proximity to a similar feature identified during the first phase of trenching in Trench 58.
Low levels of Middle and Late Iron Age pottery were recovered from ditches across the central and northern parts of Area 1. The majority of the features seen across site belong to an Early Roman field system running in a broadly north-east to south-west direction. These cultivation rows were identified throughout Area 1, in the western half of Area 2 (before the land drops of sharply to the north-east) and across Area 3. Low levels of highly abraded Middle Iron Age, Late Iron Age and Roman pottery were recovered from these ditches.
Post-medieval remains were seen in the form of a geophysical anomaly running through Trench 89 of Area 4 which was identified as a substantially sized north-west to south-east aligned ditch which contained fragments of brick and tile throughout the fills, dating the ditch to the 18th century. This feature corresponds with a line of trees seen on the 1879 Ordnance Survey map which continues into the adjacent field to the south of Dane O-Coys Road.
Actions (login required)