Phillips, Tom (2013) Southern Perimeter Road, Addenbrooke's Hospital, Cambridge Archaeological Excavation and Watching Brief. [Client Report] (Unpublished)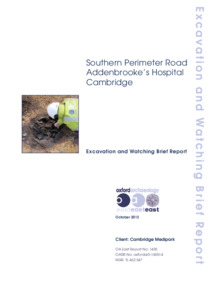 Preview
PDF




Report1435_LR.pdf


Available under License Creative Commons Attribution Share Alike.
Download (3MB) | Preview
Abstract
Oxford Archaeology East conducted an archaeological excavation and watching brief at Addenbrooke's Hospital, Cambridge, prior to the construction of a new road along the southern perimeter. The work commenced with monitoring of geo-technical trial pits along the route of the road. Ten trial pits were monitored; archaeological features were encountered in two of the pits at the east end of the proposed road. The monitoring was followed by three small excavation areas – a compound area and two sections of the road. The compound was 0.2ha and contained an area of a predominantly Early Roman field system; the most noteworthy feature was a small kiln consisting of a small sub-circular chamber and a possible flue. The kiln had in-situ burning around its edges and contained a large assemblage of Early Roman pottery, including sherds from a limited range of cordoned jars and larger storage jars; some of which were obvious wasters and sherds which had failed during firing. Certain sherds had been used to re-enforce the clay lining of the kiln.
The second area, a spur road to the east of the compound, measured 65m x 12m and contained a much lower density of features; five Early Roman ditches associated with the field system in the compound area were discovered.
The Robinson Way access road area, at the east end of the road corridor, covered 0.3ha and revealed a portion of an Early Roman field system in the north, consisting of parallel boundary ditches and at least seven cultivation beds. In the south of the area were two isolated Roman ditches. Other features included a small pit, possibly a well, and a number of tree throws and hollows.
Actions (login required)