Atkins, Robert (2013) Medieval pits and a probable late medieval/early post-medieval structure on land at The Beechams, rear of 9 and 11 Main St, Mursley, Buckinghamshire. [Client Report] (Unpublished)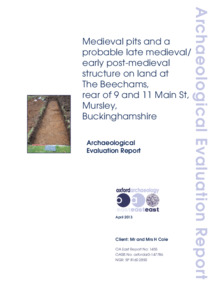 Preview
PDF




Report 1455_LR.pdf


Available under License Creative Commons Attribution Share Alike.
Download (5MB) | Preview
Abstract
Over the 18th and 19th March 2013 Oxford Archaeology East conducted an archaeological evaluation on land behind 9 and 11 Main Street, Mursley, Buckinghamshire in advance of two proposed new houses (SP 8160 2850). Three evaluation trenches totalling 31.3m in length was excavated across the site. This revealed that medieval deposits survived within the higher ground in the eastern part of the site (Trench 1) whereas the western area was on land which was formerly part of a pond or stream and no remains pre-dating modern build-up was found here (Trenches 2 and 3).
There were probably two phases of medieval and early post-medieval archaeology within Trench 1 but only one was dated. Two medieval pits of uncertain type contained moderate assemblages of 13th to early 15th century pottery with one pit having a substantial part of a Brill cooking pot suggesting the pottery had not travelled far. A soil sample from this pit also produced a significant charred seed assemblage especially cereals which may have had in part a culinary origin as well as burnt hay possibly for flooring/bedding.
Three undated post holes lay adjacent to the pits and may have been the remains of frontage structure(s) onto The Beechams. A late medieval/early post-medieval date for them is possible. This road seems to have been shown on the very small scale 1599 Salden Estate map and had houses along it. If the structure is of this period, it is likely to have gone out of use before the modern era as all surviving later maps of Mursley, the 1825 Bryant Map onwards, show no buildings fronting onto this street. The post-medieval decline and shrinkage of Mursley has been well documented and this has been confirmed here in the archaeological record for the first time. Later, in possibly the 19th but certainly during the 20th century, there was significant landscaping resulting in deposits between 0.6m and 1m deep covering the entire site.
Actions (login required)