Atkins, Robert (2013) Desk-Based Assessment at Taverham Mill Nature Reserve. Project Report. Oxford Archaeology Unit Ltd. (Unpublished)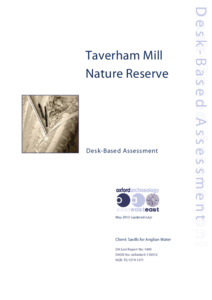 Preview
PDF




Taverham report 1469 _V2_LR.pdf


Available under License Creative Commons Attribution Share Alike.
Download (6MB) | Preview
Abstract
In May 2013 Oxford Archaeology East (OA East) were commissioned by Savills to undertake a desk-based assessment in advance of proposed construction of a visitors' centre, two pedestrian bridges and a new car park in land within Taverham and Costessey parishes, Norfolk. The land presently comprises a car park for Taverham Mill Fisheries, which is based in two adjacent prefab structures, as well as fields within Costessey parish.
A 0.5km radius search of the Norfolk HER was conducted and in addition cartographic and historic sources were researched at the Norfolk Records Office. The closest records for prehistoric or Romano-British remains are more than 300m distant.
The searches suggest that there is a reasonable chance the site was occupied by a (water) Mill from the Late Saxon period onwards (one of two recorded for Taverham in the Domesday Survey. It is also possible that domestic occupation encroached into the site from the the main settlement at Taverham. The Saxon/medieval road (now called) Costessey Road, runs adjacent to the east of the development area and runs up to the church of St Edmund, 0.25km to the north-east of the site.
The earlier mill was replaced by a paper-mill in c.AD 1700. This may have been to the north of the original as it is known that the River Wensum was straightened, possibly for this purpose. Eighteenth and mid 19th century maps of the area show the paper mill was largely built adjacent to the north-west and west of the proposed development area. Two probable mill buildings shown on the 1839 Costessey and 1844 Taverham tithe maps are adjacent/may be just within the extreme western side of the proposed development. After the mill complex expanded further, two mid/late 19th century buildings, a road and a bridge were built through the proposed development area with the latter two being constructed to link the mill with Taverham Road. This mill went out of use in 1899 and the site seems to have been abandoned for more than 50 years and then the present prefab buildings were constructed.
A child's jaw bone (undated) and a few medieval and post-medieval pottery sherds were probably found adjacent to the development area in the 1990s by members of the public, perhaps further supporting the assumption that the medieval mill site was here.
A B24 Liberator crashed in 1944, directly within and to the south-west of the proposed site. Remains from this event may be preserved below ground within the site and these may include both human remains and live ordnance.
The foundations of the proposed pedestrian bridges are likely to disturb former river channels of the River Wensum and analysis of any pollen from deposits have the potential to provide environmental information of the surrounding area over time.
Actions (login required)