Gilmour, Nick (2013) Iron Age Structures and Associated Activity on Land East of Kettering, Areas R7 and R8. [Client Report] (Unpublished)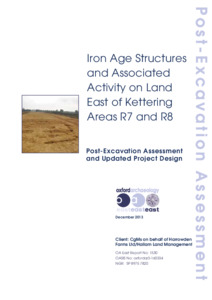 Preview
PDF




XNNEKE13_report 1530LR.pdf


Available under License Creative Commons Attribution Share Alike.
Download (5MB) | Preview
Abstract
Between 27th August and 27th September 2013, Oxford Archaeology East carried out an archaeological excavation on Land East of Kettering. This excavation, which followed an evaluation by OA East in 2012, covered an area of 2ha over part of Areas R7 and R8, within the larger proposed East Kettering development. The excavation revealed Middle Iron Age activity, including a large boundary ditch crossing the entire 400m length of the excavation area. Adjacent to this was a rectangular structure, which may be a rare example of a Middle Iron Age shrine. Very little material was recovered from this feature and there were no directly associated 'votive' deposits. However, the articulated remains of a sheep and a cow were found nearby.
A large roundhouse was identified close to the possible shrine. Both structures had been re-cut on a number of occasions and it is possible that they were linked. This is supported by a lack of associated domestic/settlement activity, including pits, in the vicinity.
In addition, several other ditches, probably part of a field system, and a single large, isolated, pit were revealed. These were predominantly of Middle Iron Age date, although remains of ridge and furrow cultivation was also present, in addition to a single post-medieval ditch.
Actions (login required)