Graham, Steven (2013) Hemingford grey Primary School. [Client Report] (Unpublished)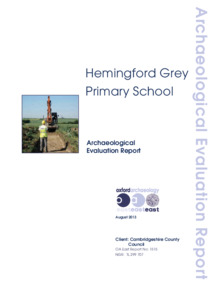 Preview
PDF




report_1515_LR.pdf


Available under License Creative Commons Attribution Share Alike.
Download (2MB) | Preview
Abstract
Between the 13th and 14th of August 2013 Oxford Archaeology east conducted the first phase of an archaeological evaluation Hemingford Grey Primary School, St Ives Road, Hemingford Grey. This first phase was undertaken in preparation for a proposed extension to the school. The work consisted of three trial pits up to 2.5m long and 2m wide located within a grassed area to the west of the school buildings.
Of the three trial pits, only one contained any archaeology; a single undated shallow ditch aligned NNW to SSE and perpendicular to the present road. This ditch was sealed by an 18th century subsoil layer. The date of the ditch is unconfirmed, its alignment would imply a relationship with the present village morphology and thus a medieval or post-medieval date would be most likely. It is possible, however, that the ditch may be associated with an Iron Age/Roman settlement known from cropmarks directly to the west/north-west of the site. This latter interpretation seems less likely since the alignment of the ditch does not resemble the alignments shown by the cropmarks.
The trial pits have demonstrated that the overburden here is relatively deep at up to 0.86m below ground level.
Actions (login required)