Ladd, Stuart (2013) Middle and Late Saxon Settlement Features at Anstey Hall Farm, Trumpington. [Client Report] (Unpublished)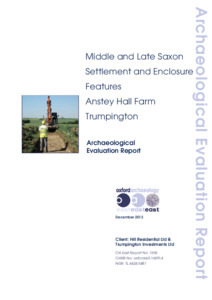 Preview
PDF




Report 1555_LR.pdf


Available under License Creative Commons Attribution Share Alike.
Download (12MB) | Preview
Abstract
Between 18th and 26th November 2013 Oxford Archaeology East conducted an evaluation at Anstey Hall Farm, Trumpington, Cambridgeshire. Seven trenches totalling 85m in length were excavated in the farmyard and garden adjacent to the east, where trees, scrub, overburden and buried services allowed.
Three trenches around the farm yard and two small trenches in the garden contained archaeological features of Middle Saxon to Late Saxon date; structural features (postholes, gullies and a post-trench), pits and enclosure ditches were found. Two short trenches in the centre of the area were obstructed or truncated by modern activity and showed no archaeological features in plan.
In all trenches a buried soil deposit was visible upto 0.25m thick covering archaeological features or indistinguishable from their upper fills. In the northeast of the farm yard, this was sealed by a cobbled surface of potentially Late Saxon date.
The survival of this deposit and a ditch bank further to the east is likely due to the lack of ploughing in the study area since the establishment of Anstey Hall and the Farm with later soils building up rather than being truncated away. No evidence of definite medieval (12th C and later) occupation was recorded. Later soils appeared to derive from post-medieval farm activity and garden landscaping.
Actions (login required)