Stocks-Morgan, Helen (2014) Middle Iron Age Remains at Wiggin Hill Farm, St Ives, Cambridgeshire. [Client Report] (Unpublished)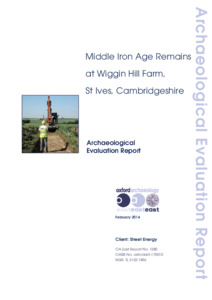 Preview
PDF




Report 1580_LR.pdf


Available under License Creative Commons Attribution Share Alike.
Download (1MB) | Preview
Abstract
An archaeological evaluation was carried out at Wiggin Hill Farm, St Ives, Cambridgeshire (TL 3103 7496) as Phase 2 of a Solar Farm development. The fieldwork took place between the 20th and 29th January 2014. A total of fourteen trenches were excavated within the proposed development area, targeting archaeological features suggested from geophysical survey and areas of impact.
Archaeological remains dating to the Middle Iron Age were present in the western side of the development area and included features relating to a nearby settlement and a ritual enclosure on the brow of the hill.
The settlement features comprised a system of field enclosure ditches, aligned north-east to south-west, that lay to the west of a north-west to south-east enclosure ditch. Two discrete pits were also encountered, one of which was a fire pit, thought to be for domestic cooking.
To the east of the settlement, located on the brow of the hill, was a possible ritual enclosure or shrine. This consisted of a small sub-circular enclosure set inside a sub-square enclosure, measuring 14m across.
Actions (login required)